Qubic awarded Silver Status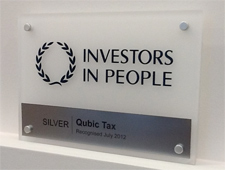 Qubic Tax have been awarded the prestigious Investors in People Silver accreditation, after The Investors in People assessors spent two days talking to staff and reviewing all aspects of the business and the way it is managed.
Key facts:
We are in the 1% of elite UK firms holding Investors in People accreditations.
As a result of having the Silver accreditation, we are now in the top 4% of UK tax and accountancy firms who hold Investors in People.
To achieve Silver status we had to satisfy almost 80 additional requirements on top of the standard 39 requirements!
We were particularly recognised for our areas of best practice including learning & development, communication, rewarding our people, staff involvement and strong leadership.
IIP recognised that our learning and development programme is well structured and involves providing employees with various learning opportunities and a variety of qualifications including ACA, CTA, ATT & STEP.
IIP praised us for the huge part that staff have been allowed in agreeing the values of the organisation as well as sharing in the firm's vision and strategy.
We were recognised for our teamwork, the value of staff involvement, strong leadership and an open culture allowing staff to bring their opinions and ideas on a daily basis.
David Graham, Director, comments:

"We are delighted that Qubic have achieved the Silver Investors in People award, as it demonstrates our commitment to supporting and developing our employees and the company. Ultimately, improvement and growth through our people is absolutely key to the performance of the business and by involving staff in our core strategies, and supporting continual learning and development, we generate great commitment and motivation in return."